The Gaslight Quarter is a vibrant historical district in Downtown San Diego. Though it only spans 16.5 blocks, Gaslight is packed with activity. It's well known for its entertainment venues and nightlife, and home to many exciting festivals, including Mardi Gras, Street Scene Music Festival, ShamROCK on St. Patrick's Day, and Taste of Gaslamp. The district is home to 94 historic buildings and is registered as Gaslamp Quarter Historic District on the National Register of Historic Places. Those moving to Gaslamp Quarter can expect a vibrant nightlife and downtown.
History of Gaslamp Quarter
The history of the Gaslamp Quarter can be traced back to 1867 when real estate developer Alonzo Horton bought 800 acres with the goal of creating a new city center in the area. Fifty gas lamps were installed along the streets, and the neighborhood was dubbed "New Town" to create a modern image. The district quickly grew, but soon fell into disrepute. The 1880s and 1890s saw many gambling halls, saloons, and bordellos open in the Gaslamp Quarter. The area became part of what was called the "Stingaree," home to the gamblers, prostitutes, drug dealers, pimps, and lower-class citizens. It was during this time that famed lawman Wyatt Earp relocated to San Diego, and ran several saloons and gambling halls in the area. Though Gaslamp was known as a hotbed of petty crime and undesirables, law enforcement looked the other way as long as the activity stayed within the district's bounds.
The early 20th century brought interest in aiding the working-class residents of Stingaree. Beginning in 1912, efforts by the Industrial Workers of the World and San Diego's Health Department began. The efforts were met with resistance from the police and residents of Stingaree alike. The destruction of over 120 buildings between 1912 and 1916 created a massive homeless population, but did not eradicate the vices as hoped.
Revitalization efforts in the 1980s and 1990s brought the Gaslamp Quarter back to life. Many residents living in Gaslamp Quarter, as well as businesses, were removed through tax increment financing and eminent domain techniques. The neighborhood was remarketed as a Victorian-themed shopping area. The signature archway was installed at 5th Avenue and L Streets, and the district was given its current name as a nod to the history of the area. Today, it is a thriving nightlife and tourist district.
Location & Transportation in Gaslamp Quarter
Gaslamp Quarter sits within the greater Downtown neighborhood in San Diego. Its beautiful Art Deco archway welcomes visitors and residents at 5th Avenue and L Street. It stretches from Broadway to Harbor Drive, and from 4th to 6th Avenues. Gaslamp is bordered by the neighborhoods of East Village to the east, Pacific Terrace to the southwest, and Core-Columbia to the north.
Gaslamp is laid out in an easy grid and is extremely walkable/bikeable. The MTS Sycuan Green Line includes a Gaslamp Quarter Trolley Station stop located at East Harbor Drive and L Street. Gaslamp is well served by the MTS bus system as well.
Gaslamp Quarter is located within the 92101 zip code.
Who Lives in the Gaslamp Quarter?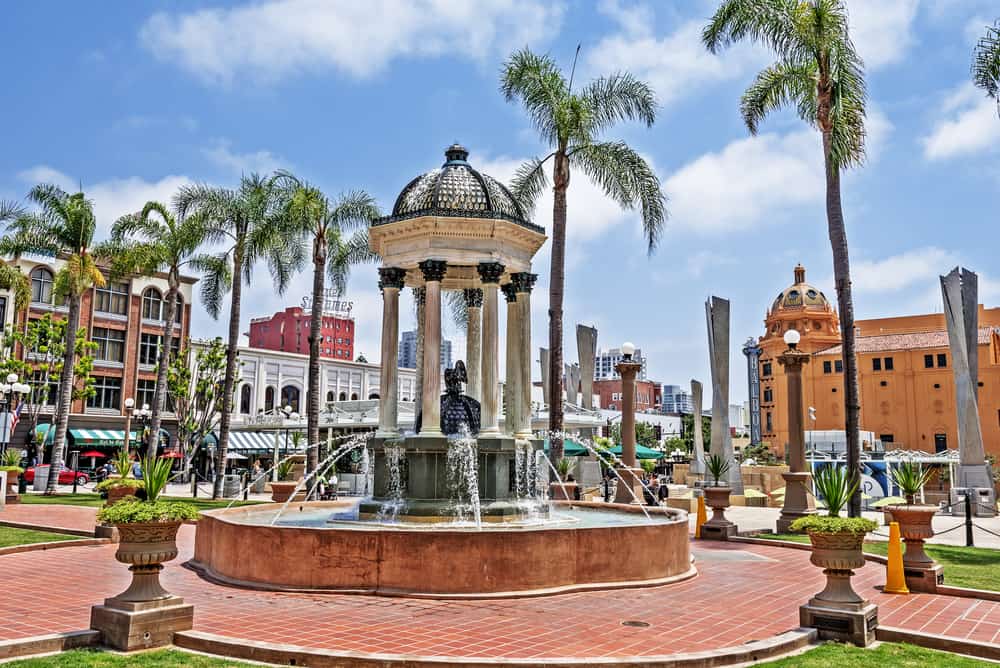 The Gaslamp Quarter is home to about 953 people. It's a diverse community, with a demographic breakdown of 68.9% white, 10.5% Hispanic, 4.1% Black or African American, 10.8% Adian, and 5.6% Mixed or Other races. As measured by the percentage of the total population, Gaslamp has a higher density of residents of German descent than the greater San Diego metropolitan area at 13.0%.
The median household income in Gaslamp is $86,500, and 68.3% of residents have received their Bachelor's degree or higher. The majority of residents hold management, business or finance, or sales related positions. The most common industries that those living in the Gaslamp Quarter work are professional/scientific/technical, finance/insurance, and hospitality. Those residing in the Gaslamp Quarter are professionals who enjoy the easy commute to Downtown.
Things to Do in Gaslamp Quarter, Places to Eat, and Where to Shop
The Gaslamp Quarter might only be about 16 blocks, but it is brimming with shopping, dining, and entertainment options! No matter what kind of activity you're looking for, you'll find it within easy walking distance in Gaslamp.
If you're looking for women's fashion, look no further than at Wild Dove Boutique. This chic boutique has everything the modern woman may want. BAIT on 5th Avenue has an upscale assortment of sneakers, collectibles, and streetwear. Their collaborations with well-known brands provide customers with a truly unique selection. If you didn't find the sneakers you were looking for, head to The Sneaker Club, another high end sneaker retailer in Gaslight. If you're looking for custom jewelry, head to Chappellet & Co., where designer September Chappellet will create the piece of your dreams.
There is plenty of culture in Gaslamp Quarter. Take the kids to the New Children's Museum, where there are endless interactive exhibits to cater to their creativity. Visit The Gaslamp Museum at the Davis-Horton House to learn about the history of Gaslamp while touring its oldest still-standing structure. The San Diego Chinese History Museum is a fascinating look at the Chinese communities in California. If you're looking for live theater, check out the performances at the Horton Grand Theater. And for a great indie film selection, head to The Balboa Theater.
If you're looking for great food and nightlife in Gaslamp, you won't be short on options. Try Cafe 21 for modern Middle Eastern cuisine, craft cocktails, and live music. Want to enjoy a movie with your meal? Head to the chic Theater Box, where you can enjoy a full menu and cocktail list while you watch. If you're in the mood for seafood, head to Lionfish Modern Coastal Cuisine in the Pendry San Diego. After dinner, enjoy cocktails at Prohibition San Diego, a speakeasy style lounge with amazing drinks. And if you're looking to let loose, Omnia Nightclub has everything from rooftop cabanas, indoor dancing, and lounge areas.
List of Things to do and see in Gaslamp Quarter – San Diego
Gaslamp Quarter Map
Gaslamp Quarter Real Estate
The Gaslamp Quarter real estate market is somewhat competitive. Those moving to Gaslamp Quarter can expect the median sale price for a home in Gaslamp to be around $470,000. Homes usually sell in about a month at 1% below the asking price, some with multiple offers. Real estate prices in Gaslamp have risen about 12.4% since last year. Prospective residents can expect to find homes and apartments in Victorian style buildings.
If you're looking to rent in the Gaslamp Quarter, the average rent is $2175 a month in Gaslamp Quarter. The good news is that's lower than the San Diego average of $2,352.
Is San Diego's Gaslamp Quarter going to be your next home? Let our highly trained professional Gaslamp Quarter movers help you with your move. Call Republic Moving today for your free quote!