The wealthy and popular neighborhood community of University City, CA got its name for being located right next to the University of California San Diego campus. University City is split between residential communities and a handful of commercial areas.
Known for being home to a variety of tech businesses and research institutions, University City is often called the "Golden Triangle" because of its shape. University City is also commonly referred to by the simpler nickname of "UTC". 
Is University City a good place to live? As long as you can afford the high cost of living, then University City can be a comfortable and enjoyable place to call home. Residents of the area range from college students who attend the university to young families and even retired seniors.
History of University City
The land now called University City was originally acquired in 1959 from George Sawday and Oliver Sexton, two wealthy cattle farmers. It was purchased with the intention of creating a master-planned community and work began as University City was officially subdivided in June 1960.
The area grew quickly with more than 12,550 people relocating to University City within the first 10 years of its development. After a while, residents began to fear the area would become overcrowded and lose its small-town charm. That is why the University City Community Association was started in 1984 to prevent population density issues and maintain the community's growth strategy.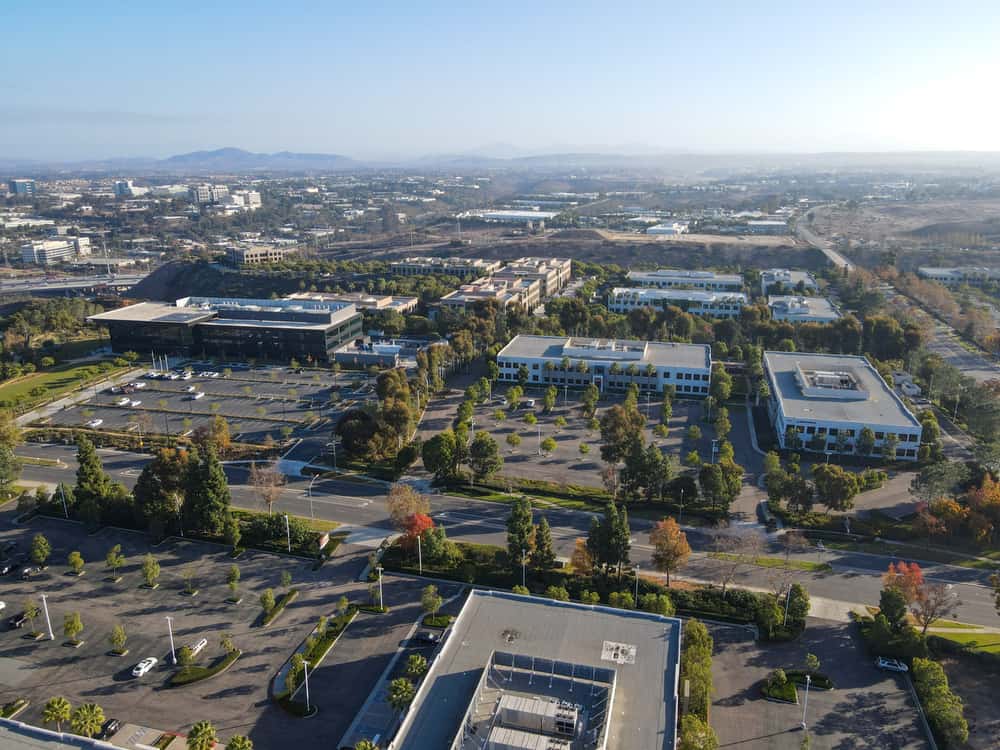 As the San Diego neighborhood has flourished, the southern part of University City is mainly residential while the northern side has grown into a hub for business, shopping, and entertainment venues.
University City Location & Transportation
University City is about 13 miles north of downtown San Diego, keeping it far enough away to avoid much of the city rush while still being close enough to enjoy all the big city benefits. Other San Diego neighborhoods that border University City include North Clairmont, La Jolla Village, Torrey Pines, and Sorrento Valley.
The community of University City has a triangle shape with only three sides which are made up of the I-5, I-805, and CA-52. University City covers four zip codes: 92037, 92117, 92121, and 92122.
Because it is right next to La Jolla, residents of University City have quick access to a handful of popular beaches including La Jolla Cove, Black's Beach, Torrey Pines State Beach, and more. University City is also less than 20 minutes away from SeaWorld.
People living in University City are served by the San Diego Metropolitan Transit System with multiple bus stops along Genesee Avenue. They also have access to the Amtrak line which travels along the northern border. Rideshare services like Uber and Lyft are available in the area as well.
People & Culture of University City
The population in University City is 49,031 people with a median age of 31 years old. University City demographics show strong diversity in the neighborhood with about 49% Caucasian, 33% Asian, 11% Hispanic or Latino, and 3% Black or African American.
Considered a middle to upper-class community in San Diego, the median household income in University City is $93,801 per year.
Around 40% of people residing in University City are married, and a large number of these couples also have children. There are about 5,869 kids under the age of 18 years old, adding up to about 12% of the neighborhood population.
More than 78% of residents living in University City have a higher degree, making it a highly educated community. The most common jobs held by people in University City include management roles, computer techs, scientists, salespeople, educators, engineers, and others.
The crime rate in University City is 37% lower than the national average with a violent crime rate that is 70% lower. Locals in University City have a 1 in 64 chance of becoming a victim of crime. University City is a safe place to live.
Places to Eat, Things to Do, & Shopping in University City – 350 words
Like most San Diego suburbs, the University City community offers residents plenty of fun activities, popular restaurants, and upscale shopping destinations.
Great Restaurants
For one of the top places to eat in University City, head over to Din Tai Fung and try their delicious Taiwanese food. The menu includes succulent options ranging from ribs and Xiao long bao to spicy wontons and dumplings.
As another top-rated restaurant in University City, Eureka! is a laid back burger joint offering great entrees and refreshing drinks. Head over and take your pick from their menu of chicken platters, salads, snacks, sides, and of course burgers.
View this post on Instagram
Fun Local Activities
Among the best things to do in University City with kids, the Doyle Community Park is a great space to spend time enjoying the outdoors. The park features baseball fields, soccer fields, and a children's playground.
With a wide variety of activities to choose from, the Standley Recreation Center is one of the top attractions in University City for people of all ages. The center offers visitors the chance to go swimming, play tennis, workout in the gym, and much more.
View this post on Instagram
Convenient Shopping Destinations
Find a variety of popular places to shop in University City at Westfield UTC shopping mall including recognizable names like Gap, Express, Billabong, American Eagle, Vans, Apple, Lego, Journeys, Skechers, Pandora, and others.
View this post on Instagram
University City Marketplace
Another local shopping destination in University City is the marketplace with stores like Footwear Etc, Great Clips, Tuesday Morning, Sprouts Farmers Market, Tailoring Express, Beauty Kliniek, and more.
People moving to University City will also have access to well-known stores like Rite Aid, Macy's, Target, and Walmart.
List of Amenities
Map of University City
University City Real Estate
The cost of living in University City is about 13% higher than the California average. While groceries and healthcare are more affordable, utilities, transportation, and the University City real estate market tend to be more expensive.
As a highly competitive market, University City, CA homes for sale typically require an average down payment of 48% with most homes only staying on the market for an average of 10 days. The average price of a home in University City is $517,000, which is a median sale price of $543 per square foot.
University City rent options are available all over the neighborhood in the form of either apartments or homes. The average price of rent in University City is $2,080 per month.
Young people residing in University City attend campuses within the San Diego Unified School District. A few of the best schools in University City include:
Spreckels Elementary School

Doyle Elementary

Standley Middle School
Moving to University City in San Diego, CA?
There are so many great reasons for relocating to the University City neighborhood. If you're convinced that living in University City is right for you, then we have a team of movers standing by to help with your upcoming relocation! Call Republic Moving today at (619) 000-0000 or fill out the Request a Quote form on this page to get a free University City moving estimate!